What an honour to work with my pals at Studio Something creating Fifa's World Cup 2022 Title Sequence for BBC! There's no way I can describe the concept better than they did: 
" this year's title sequence celebrates 'The Rhythm of the World Cup' - the fancy footwork, the celebratory dances and the patterns found on the pitch. Combining audible and visual memories of the World Cup's past, we wanted to create a sensory kaleidoscope that created an opener relevant to the present. Social channels have created a culture of remixing, reattributing and resharing, and we wanted to play into this with a 'memeable' scrapbook style treatment, looping visuals and audio in a hypnotic 40 seconds of football fandom. A jamboree to celebrate all that makes the great game great."
Agency:
Studio Something
Client: Mark Woodward - Creative Lead, BBC Football
Head of Agency: Tracey Paxman
Executive Producers: Ian Greenhill & Jordan Laird
Studio Something started way earlier but for me the project spanned across 8 weeks, working closely with creative director Emma Lally every step of the way.
While we started digging through more than 4 hours of footage (that Lewis - our researcher - handpicked for us from the BBC archive) we also had to think of how we could make these work. At this stage we didn't have a clear narrative in place, just themes that we would like to explore and loose categories (pacemaking, beat building, boogie wonderland, heartbreak and so on). I guess this is the nature of a project based on archive footage, you don't know what treasures you'll come across.
One of the biggest challenges was to find the right shots suited for our treatment. The framing was very specific as we had to rotoscope each player out of context and we didn't want to limit the way they could be used just because of a weird crop, now that they were in isolation. Then they couldn't be obstructed by another player or objects either cause out of context it would've looked like a mistake. Our usable footage had a tons of rules and that meant that a lot of the times we were at the mercy of replays or alternative angles that you don't normally see in a live broadcast so having access to BBC's vast archive was key.
Developing the timeline above was a breakthrough moment on finding a narrative structure. At this point we were quite familiar with the footage,  we trimmed the fat and got down to 25 minutes, we had our themes and categories in place so we knew what ingredients we had at our disposal. We just had to come up with a recipe - easy, right?
I remember shots were starting to fall in place quite naturally (minus just a few gaps) and it was all taking shape based on the moments of any football match: kick off to full time whistle and all the energy and drama in between.
Initial Styleframes by Studio Something
Ken Clark - Studio Something's Art Director - developed these gorgeous styleframes very early in the process. They were actually in the deck the studio presented to BBC in the pitch phase. The biggest things we had to loose were the typography and the flags (only because we didn't have time for big individual feature moments like that) but everything else, the black and white treatment of the players, the repetition, colours, handmade flourishes and the gritty texture, they can all be found in the final piece. I loved this scrapbook style treatment right from the start so I'm elated we manage to preserve it. 
Pattern Explorations and Animation Tests
We didn't know if these were the shots we would use for these particular patterns but I wanted us to have a pool of ideas to choose from once we did get to the stage of marrying the offline edit with the designs. There was very little waste in the end, a lot of these explorations ended up in the final piece after some adjustments, probably the best example is the line-up of Owen(s) and the spiral of Messi's kicks which we merged into one shot using stills of several past and present players running.
Behind the scenes
There was a lot of ground to cover, we wanted to fit in some of the most iconic moments from the past World Cups but also quirky moments that everyone forgot about or didn't even see in the first place. So that meant that the animation had to be snappy, a lot of the times I couldn't linger on a shot not even for an extra couple of frames. I worked in parallel with the Rotoboiz, while they were meticulously cutting out the subjects I was X shots ahead, using proxies (badly rotoscopped footage) developing the patterns and progressing with the animation.
Mario Goetze didn't get selected for this year's World Cup so he didn't make our cut either but this shot of his goal from 2014 helped me figure out things. First of all it helped me brief our fab team of Rotoboiz - Jack and Harris - for the shots they were about to rotoscope (more than 40 altogether by the end of it). It was also a clear example that we couldn't always use footage looping like a GIF and if we ever wanted to create this waterfall effect (like the blue test) they would have to rotoscope a considerable amount of extra frames on each side of the main action. Then it also allowed me to explore different camera moves and to experiment with depth by offsetting layers on Z axis.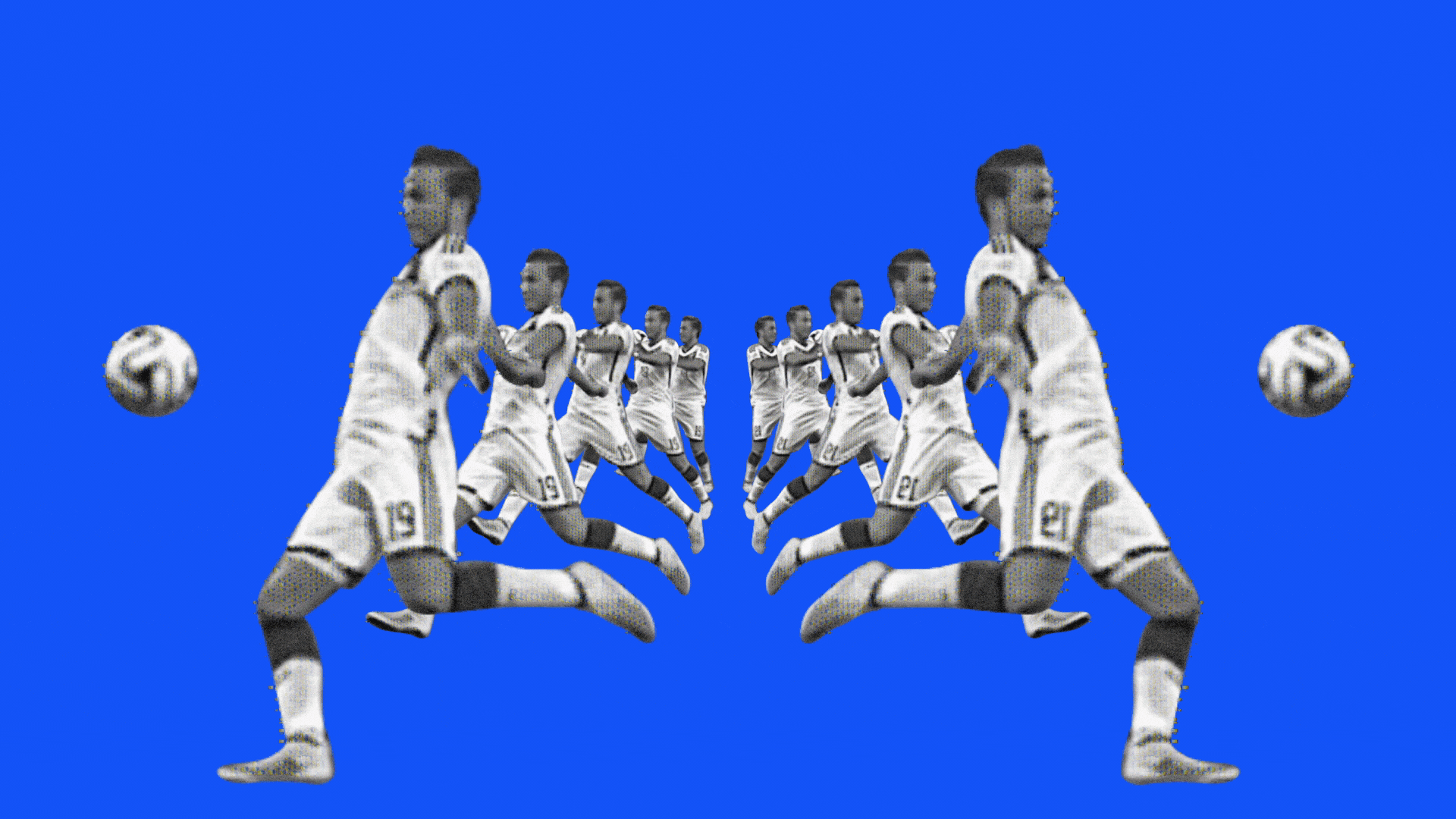 We wanted to pay tribute to the tournament's rich history, football and the amazing energy around it, despite the horrible revelations surrounding this year's host country. The sequence goes live on Sunday, 20th of November, ahead of the opening game Qatar vs. Ecuador and will be played before every other game broadcasted by BBC, with an anticipated reach of 44 million views.